With the tried-and-tested IE methods, every industrial building becomes a competitive advantage.
When planning and implementing the construction of a new building, an extension or an intermediate building, all kinds of factors influence each other. We respond to the associated high level of complexity with our tried-and-tested IE methods. They consist of four clearly-defined phases and have been successfully implemented in more than 200 industrial construction projects.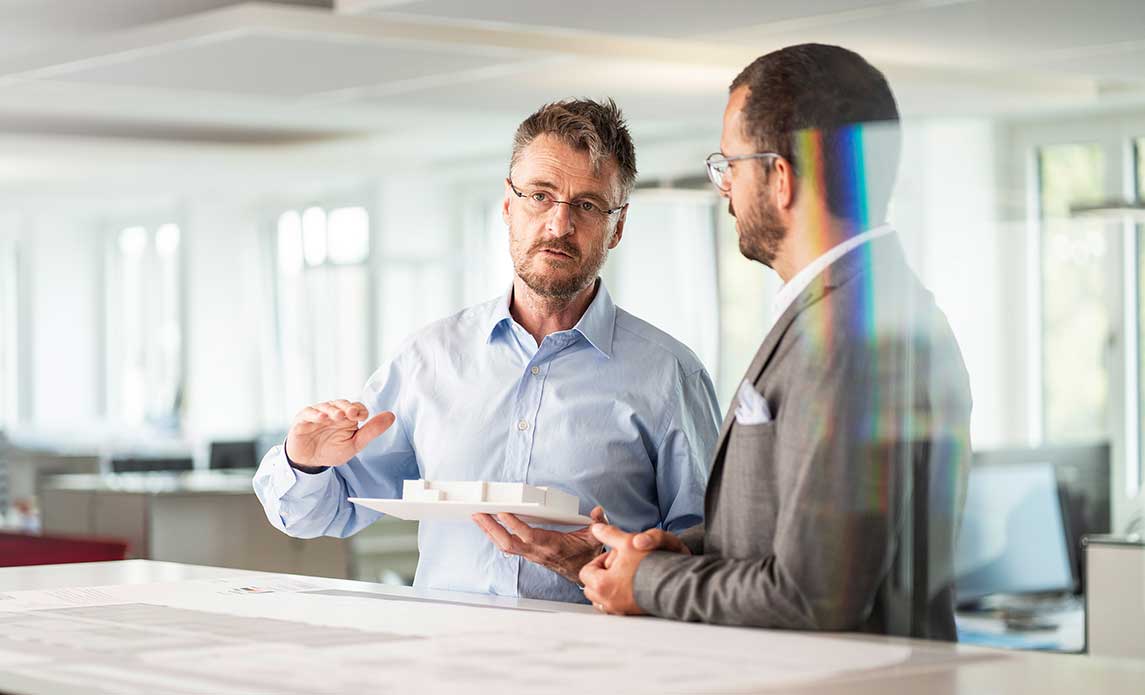 Transparency from the initial idea through to completion.
Thanks to our IE methods, we can offer you the greatest possible transparency and maximum cost security. So, all the jointly developed goals, services and milestones are clearly defined in the comprehensive concept – from the initial idea all the way through to final implementation. That means you can keep an eye on our collaboration from phase to phase at any time.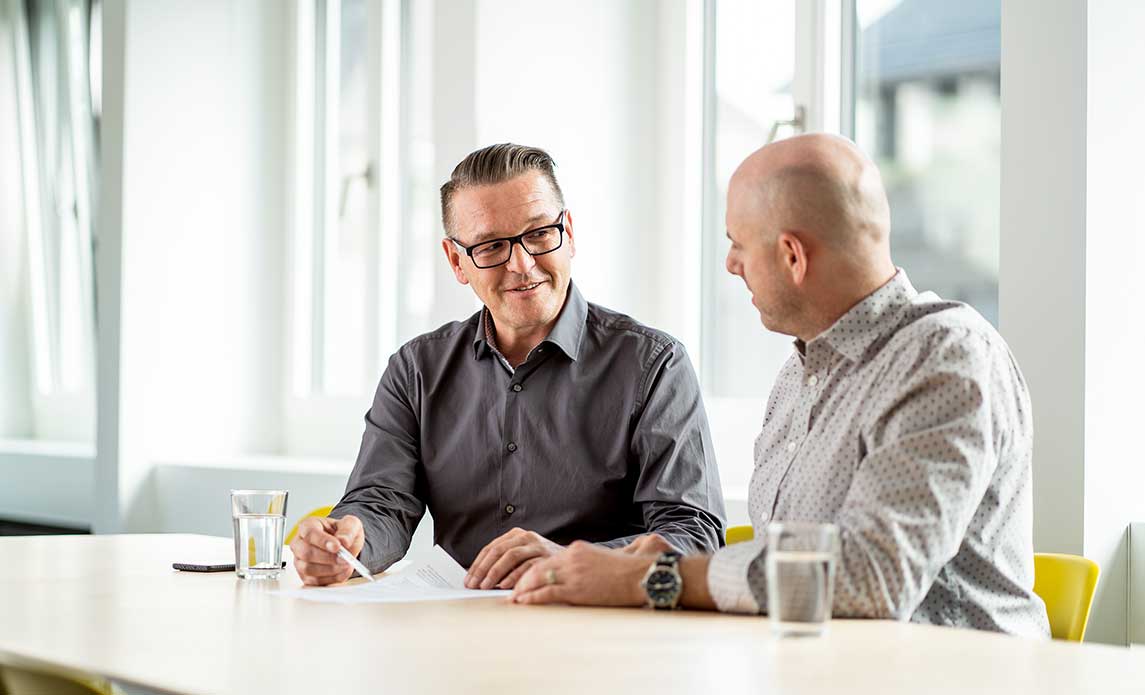 100% cost security. Contractually guaranteed.
Every industrial construction project has individual and industry-specific requirements. To be able to successfully implement an ideal layout developed in advance, it is divided into four separate phases. Each of them has its own individual contract. That means you can review the results at any time, make continuous adjustments if required, and rely 100 percent on the investment costs calculated beforehand.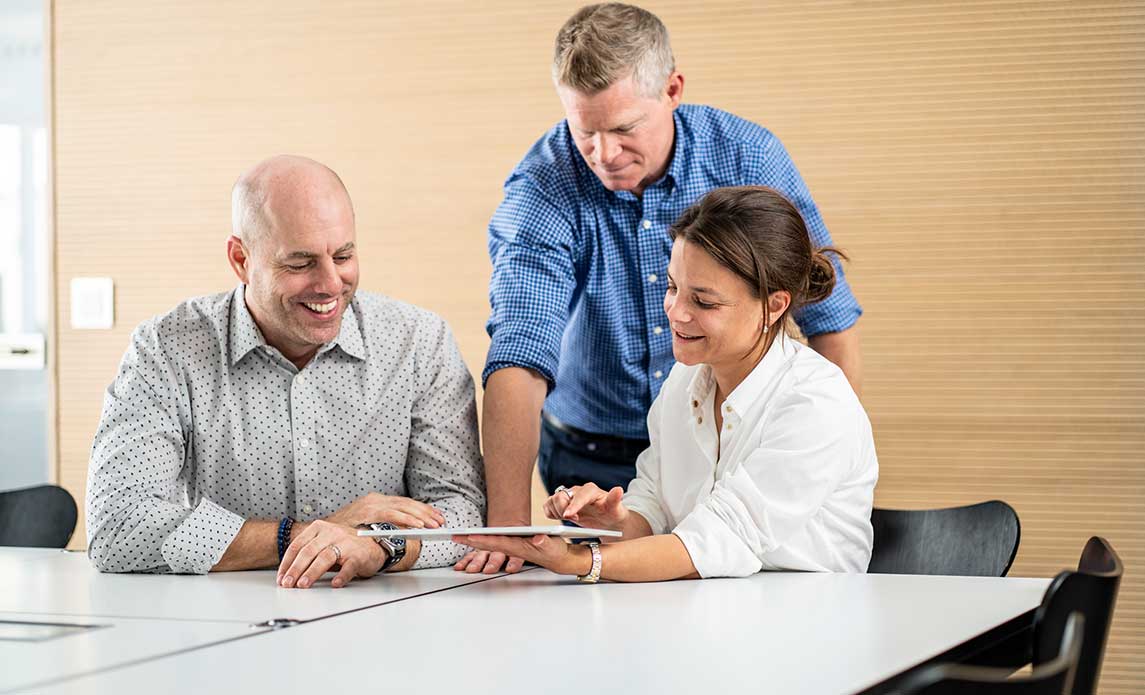 Trusting cooperation as equals.
With our transparent approach and the contractually-assured guarantees, we're primarily striving for one thing – a solid partnership. So, collaboration with our customers is characterised by mutual trust and maximum transparency. Two cornerstones which are crucial for successfully implementing any industrial construction project on budget and on time.
The IE Group 4-phase model.
All the aspects relevant for your planned construction project are included in our IE methods – regardless of whether it's a new build, an extension or a modernisation project. That way we can optimally coordinate your production processes, the technical building equipment and our construction planning. Thanks to the individual phases, you can have clarity regarding the current state of affairs and you can always know exactly what's coming next – both in terms of internal resources and in terms of investment costs.
Investment idea
We analyse existing operating processes and conditions in advance
Together with you, we then develop an ideal layout for your construction project
Following that, we perform a feasibility analysis of the entire plan
Finally, we determine an initial reference value for the anticipated investment amount
Project decision
We then begin making specific plans for the new build, intermediate building or extension
This is followed by the development of the first operating and logistics concepts
At this stage, your investment costs (+/- 10 percent) can be guaranteed
Last but not least is the commissioning of your individual industrial construction project
Investment decision
Now comes the detailed planning of your construction project
We gather up quotes from partners so that we can substantiate the total amount of investment
Similarly, all the options regarding the jointly-developed ideal layout are collated
Finally, you approve the costs for your planned industrial construction project
Implementation decision
Your construction project will be implemented straight away
We plan and design each individual step for this process in advance
The investment costs calculated beforehand are specified in the contract
Following the successful completion of the industrial building, it will be handed over to you on time